Sports from 1937 to 1940
Photos courtesy of Bob Burnett, Thanks!
1940 Basketball Team

Members are: (from left) Coach J.R. Gouldman, 7-Bubber Burnett, 8-Thomas Keith, 4-Tony Curro, 5-Lane Foster, 6-Hugh Walker Ivy, 1-Mike Mclaurin, 10-Mac Douglas, 8-M.B. Adelson, 2-Skeet Edwards, 3-John Mcgibboney. The team record that year: 14 & 3.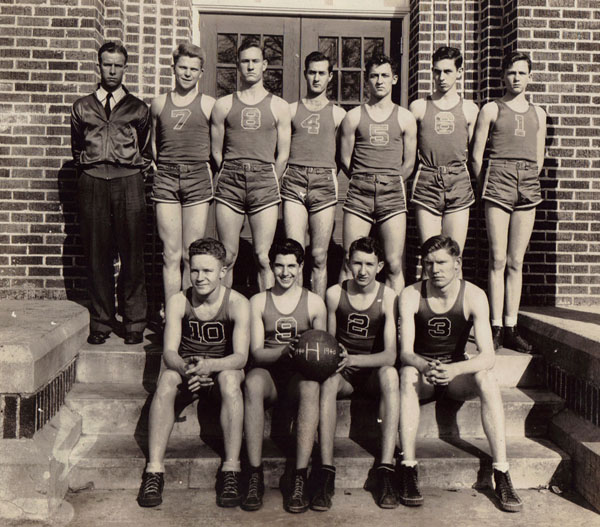 1937 Football Team
The players are: (from Left) Woodfin Culpepper, Julius McNemar, Harris Peyton, Bubber Burnett, W.C. Ward, Massey Mclaurin, John Mclaurin, (backfield) Oriaph Goss, James Stafford, Dick Hall and Tony Curro.
The record that year:
H'dale 12 Minter City 0
H'dale 0 Inverness 0
H'dale 6 Shaw 0
H'dale 26 Glen Allen 0
H'dale 0 Rolling Fork 14
H'dale 30 Benoit 0
H'dale 0 Boyle 19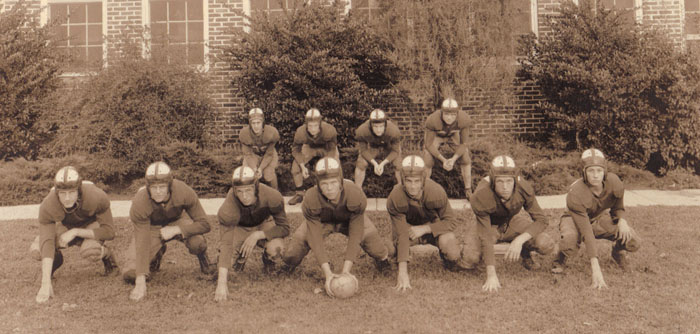 1938 Football
(L/R) asst coach Mitchell Showah, 80-Julius Mcnemar, 28 Skeet Edwards, 23 Bubber Burnett, 31-Thomas Keith, 21 Harbert Mclaurin, 26-Hugh Walker Ivy, 7-Bert Morris, 32-Will Ashley, Coach JR Gouldman, 11-Walter Kendall, 85-Bobby Ivy, 86-William Hall, 25-Herbert Mclaurin, 30-Williard Cotten, 27-Harris Peyton (tem captain), 81-Henry Jones, 24-Reginald Herrin, 22-Mac Douglas, 20-Woodfinb Culpepper, (front row) Jack Hammack, Walter Marx, Otto Hall, LM Brown, Carl Keith, Mike Mclaurin & Lane Foster